Building Safety Submittal Requirements 
---
Starting September 1st, 2023, building permit documents will be required to be named and uploaded in accordance with naming conventions as set by Adams County. Please be aware that reviews may be rejected if the checklist and all required documents are not provided or named properly. These checklists will be updated on 8/15/23.
Residential Guides (updated 8/15/2023)
---
Commercial/Industrial Checklists (updated 8/15/2023)
---
Other Helpful Resources:
Colorado Department of Public Health and Environment (CDPHE) Resources:
---
Current Planning Application Packets
Current Planning administers land use reviews of applications such as site plans, subdivisions, rezoning, conditional use permits, special use permits and variances. Some of the applicable standards that are reviewed in this process include zoning, permitted uses, setbacks, height, landscaping, parking and signs.
Below are applications packets. Included in each packet is the case type checklist of items that are required for submittal, Guide to Development Applications Submittal, Development Application and any additional required documents specific to the case.
Please submit all land use cases and engineering projects not currently accepted through the E-Permit Center by email to 
[email protected]
:
•
Save all files as PDFs, preferably as one file if prepared by the same individual. Otherwise, attach separate files for each discipline in order to preserve the encrypted digital signatures.
•
All drawings must be scalable and legible. No JPEGs or other non-PDF file types can be reviewed.
To submit payment for Land Use/Engineering applications, please create or log into your 
E-Permit Center
 account. Upon acceptance of the application, you will be assigned and emailed a permit number. You must search this permit number in the upper search bar and hit enter. You will find in the middle of the page a "Payments" tab with "Fees" in the dropdown. Follow the blue link to submit payment (see image below). Once payment is processed, please email the receipt to 
[email protected]
. 
Review of the application will not begin until payment has been verified.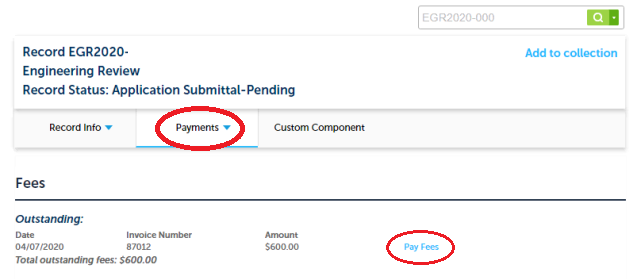 Application Packets
      Land Use Review Applications
 Residential Registration Applications
Engineering Review Applications
Right-of-Way and Infrastructure Applications
***More information of applicability of County ROW and Infrastructure Permits can be found here.